From purchasing and customizing new workstations to designing and configuring multi-level or complex networks, Central Coast Support has the expertise and friendly service to provide quick and affordable solutions for all your network and computer needs.
Certified Network Technicians
Our staff members have been awarded certifications from the leading organizations in our industry, including CompTIA, Cisco and Microsoft. Together, they have many years of experience in network configuration.
CNSS Certified by the Committee on National Security Systems, National Standard 4011-E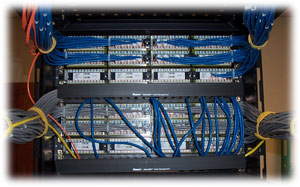 Licensed Wiring Professionals
Computer networks depend upon physical connections for their operation. If a network is not wireless, then it needs wiring to allow computers to share information. If the wiring is loose or intermittently disconnected, people will have trouble accessing shared information. If the wiring is of poor quality, electrical signals from nearby equipment could force your network computers to resend information many times until it goes through – a situation that degrades performance for everyone on your network. New and existing office InstallationsAlways make sure that you are using wire and connectors that are built for the type of network you have instead of using standard telephone wires and jacks. It is common to see "printer problems" arise that are actually network wiring problems – when the wiring is poor, a user's computer can "think" that a network printer is offline or malfunctioning when in fact the connection to the printer is faulty. Sometimes people think that their server is slow when the real culprit is wire that was incorrect or poorly installed.
Our licensed professionals will carefully install your jacks, test your connections, label everything, and organize your cabling to avoid crushed or over-tight cable ties.